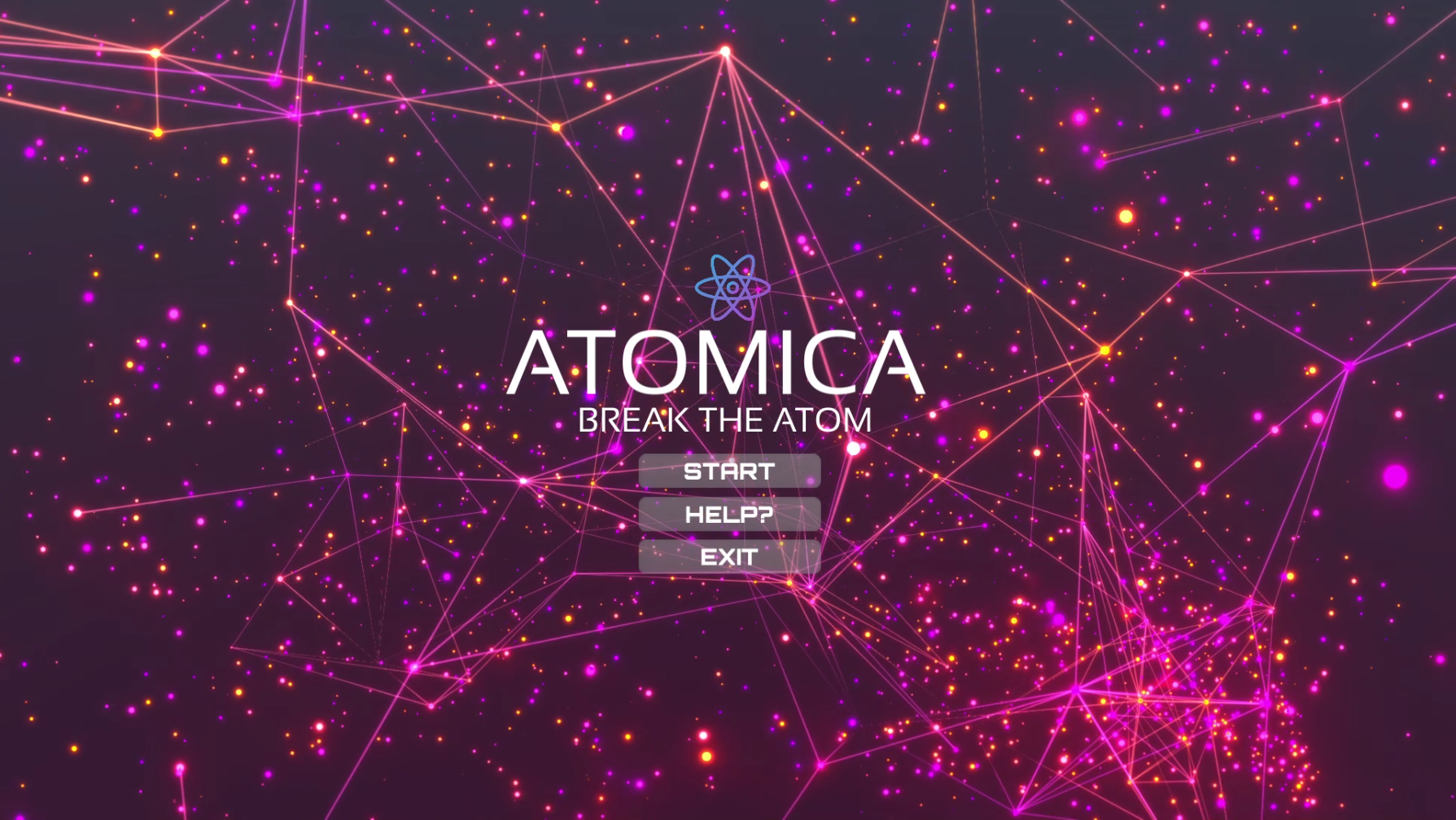 ATOMICA
A downloadable Atomic Experience for Windows and macOS
ATOMICA 2.0 is here!
~Incoming Updates~
All-New Music! All-New Visual Themes!
Thank you so much for the love! We've worked together with awesome composers from the USC Thornton Music Program to bring you six new music tracks and their accompanying visual themes~
What does this mean? New ways to experience the game! While the new additions are mostly cosmetic, we're also working to bring in gameplay changes and a possible leaderboard (if I can get it up and running)..
The ATOMICA 2.0 Update Teaser is here~
~ ~ ~ ~ ~

ATOMICA - Break the Atom!
Born from the thought of "Pinball in 360", Atomica thrills with visuals and delivers an experience of COURAGE with a good mix of action and real-time tactical gameplay in short 5 min arcade sessions.
COURAGE?
ATOMICA is a game that is created to evoke the feeling of courage. Where my previous game - TILTOFF - aimed to create spiritual balance, ATOMICA aims to instill you with the courage to face the daily ordeals that create unbalance in our lives. Be brave and face the challenge of the atom. Even when the atom goes atomic and the round ends, always remember that no matter the score, your courage to overcome the challenge is what truly counts.
How to play?
Your mission, should you choose to accept it, is to protect the central core of the atom long enough to gather a high Explosive Yield Score (EYS) by pushing the yellow ball into the purple boxes to gain more EYS using the Thumpers (controlled with Z & X / leftCtrl&alt ) and the Gravity Pull mechanic (activated by holding down Space). Move the camera around the arena with the left mouse button (or WASD/ArrowKeys) in all directions and watch out for overheating. The higher your EYS, the better your final rating!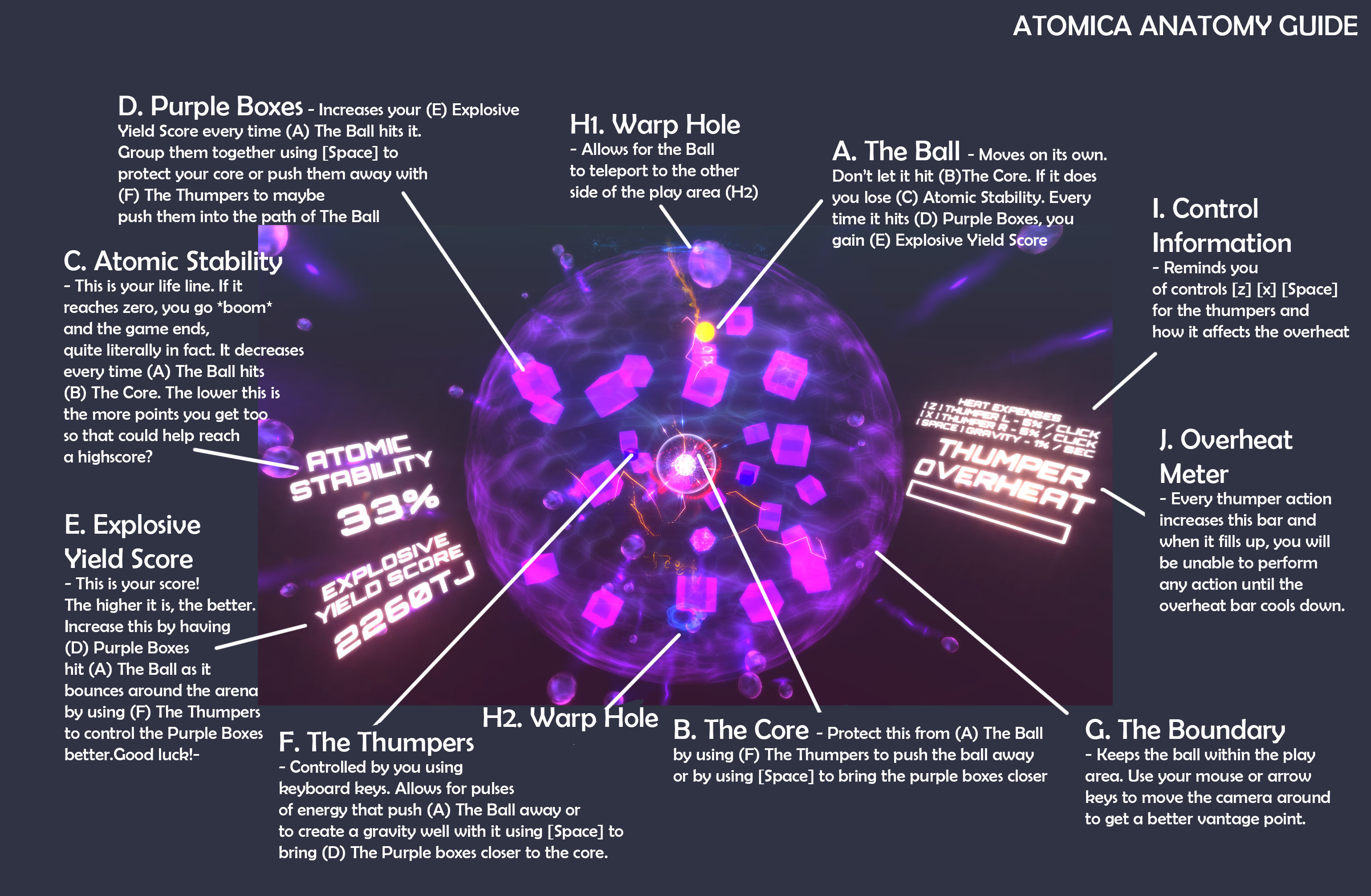 Score Ratings?
In ATOMICA, your Explosive Yield Score determines your final rating. Here's a handy table to help you hit the max rating:
F Rank - 0
D Rank - 1500
C Rank - 3000
B Rank - 5000
A Rank - 8000
S Rank - 12000
What is in a rank?
Well that's up to you. In linear game views, a rank is an indicator of your ability but what are we truly measuring here? We have been conditioned through academic tests to think that an F is bad but is it really?
Remember that you're splitting an atom here, so by getting a low score, it could mean that you're just really not that good at making things go *BOOM*, which is great for humanity because lets be honest, what good has an explosion ever done for us?
Courage in the face of certain defeat and death is the greatest valor a human can have. Though that may arise, you can have the greatest courage every day by believing that there always is a winning scenario even though everyone says it's a no-win.
S Rank Highscore List!
Get on this list by posting a screenshot/video of your S-Rank score!
1. dangomountain - 25400 TJ
2. Cregina - 16160 TJ
3. dinre - 14460 TJ
4. Lukz2cool - 13520 TJ
5. enoiir - 12500 TJ
6. Spoonage - 12300 TJ
*///// ----

~Possible Future Updates~
Being worked on now:
- In-game leaderboard
- Multiplier HUD
- GO BEYOND S RANK. PLUS ULTRA?
- Visual Theme Switcher - change the look of your game~
~
Copyright Info
Current songs are temp and will be replaced in coming versions.
Here is the current song infomation:

Pyres by Broken Elegance https://soundcloud.com/brokenelegance Creative Commons — Attribution 3.0 Unported— CC BY 3.0 http://creativecommons.org/licenses/b... Music provided by Audio Library https://youtu.be/9xMg_xdpa7w
Nostalgia by Tobu https://soundcloud.com/7obu Creative Commons — Attribution 3.0 Unported— CC BY 3.0 http://creativecommons.org/licenses/b... Music provided by Audio Library https://youtu.be/03AKy9bhOMU
| | |
| --- | --- |
| Status | In development |
| Platforms | Windows, macOS |
| Rating | |
| Author | Timothi Ellim |
| Genre | Action, Survival |
| Tags | Abstract, Arcade, atom, Experimental, Minimalist, Pinball, Sci-fi, Score Attack, Singleplayer |
Purchase
In order to download this Atomic Experience you must purchase it at or above the minimum price of $4.99 USD. You will get access to the following files:
Atomica_V2_Windows_031219.zip
157 MB
Atomica_V2_Mac_031219.zip
160 MB