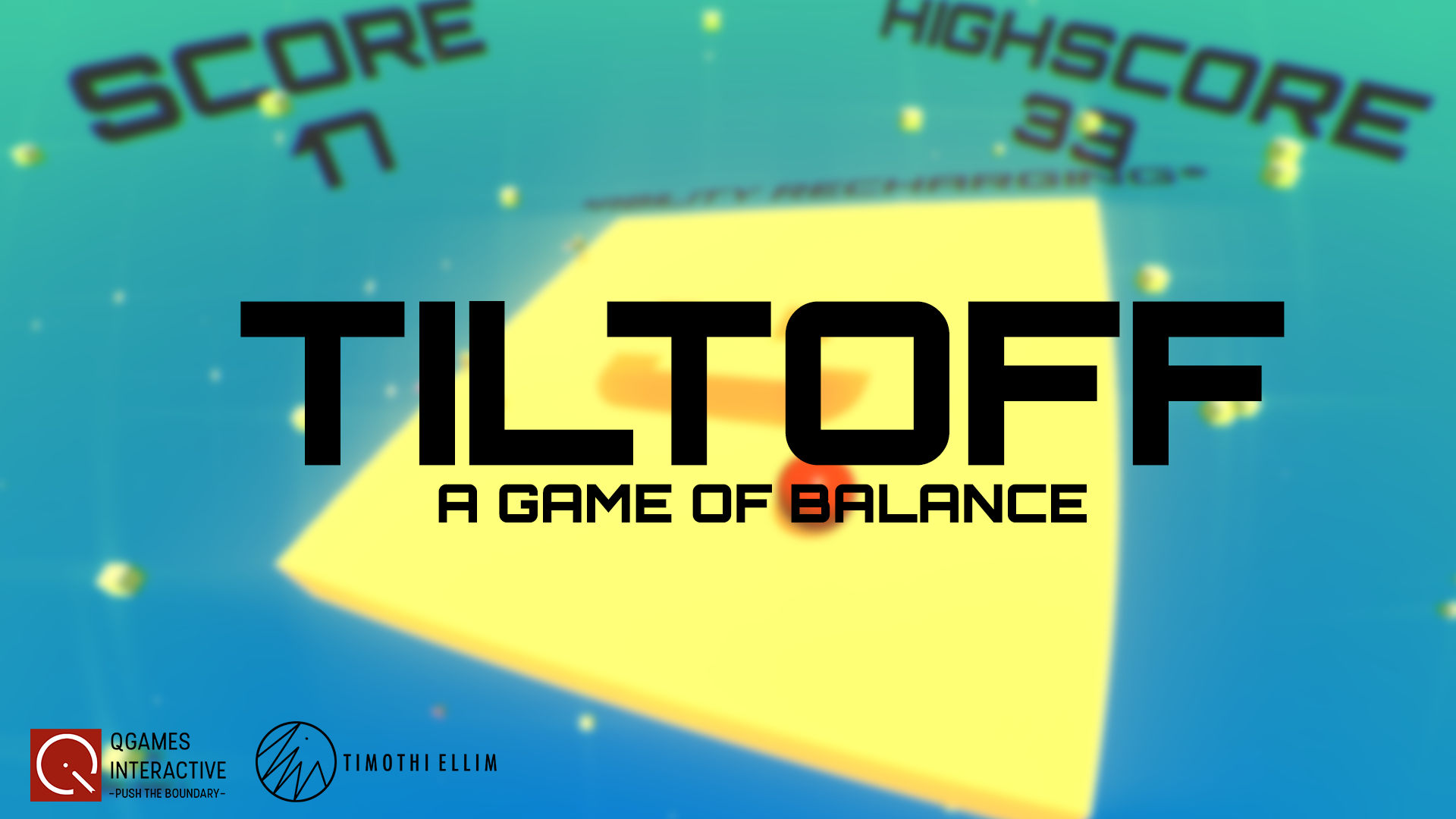 TILTOFF
A downloadable spiritual experience for Windows and macOS
Available for free for the first 500 downloads! So get your copy today and get future updates for free as well~ :)
Challenge The Creator! The current Developer Highscore is 134. If you can beat that score and post a screenshot of it in the comments below, I will deliver an awesome gift to you!
---
Discover your balance and find your spiritual center with this new arcade game!
What?! No way!
Yes! TILTOFF guarantees an easy way to a better you! Through the proven method of balancing a ball on a yellow platform with a smiley face, you will save time and get results. Experience the change today, click that download button!
Not convinced? Don't worry!
Built from the ground up to accommodate the philosophy of balance, TILTOFF is the ultimate no risk casual spiritual experience you will ever have. Take control of your life and guide the red ball around the yellow platform to improve your score and learn to increase your personal balance point.
Just as life throws hurdles at you, so too does the game. Random objects will drop from the sky to tip your platform over, but will you survive? Yes! Today, with TILTOFF, you will prove to yourself that no matter what life throws at you, you will win! From flowers to mountains, move with the flow and balance that platform. Balance your life, once and for all!
But what if I can't balance it?
That's okay! We all need a little help sometimes, so in TILTOFF, you have access to special abilities that will aid you in your journey to perfect balance. Activate these by smashing the space bar, getting rid of excess stress at the same time.
Get help from friends and loved ones! TILTOFF supports and encourages co-operative play! So, play together with a partner and find your balance without failing alone.
"Life is like a bicycle. To keep your balance, you must keep moving" – A tip from Albert Einstein about playing TILTOFF and winning at life.
Remember, the greatest secret to happiness and success is balance. With TILTOFF, this is now available to you for free! So, hurry and click that download button to get access to this revolutionary experience.
---
---
Features List!
What's so awesome about TILTOFF?
Improves your spiritual balance to help you succeed in life
Play at your own pace with Arcade style gameplay
Clear your mind with a beautiful color therapy palette
Play with a friend in two player mode
Become happier with an energizing soundtrack
Choose an ability to fit your playstyle
Xbox One Controller Support
---
---
Stretch Goals!
Every download gets us closer to a better game~
Sharing the game on Twitter and Facebook really helps hit these goals!

(Phase One - Audio & Theme)
100 Downloads - Two more audio tracks from Amoeba Crew added to the main gameplay section!
200 Downloads - Another wave of 4 more drop objects added to the game.
300 Downloads - Sound Effects added to the game! (Affects UI and Game Objects)
400 Downloads - Settings Panel to help control soundeffects and music
450 Downloads - More background colors!
500 Downloads - Two more themes added to game (change the look of the game)
(Phase Two - Gameplay)
550 Downloads - Multiplier UI and effects - from the Bonus Pickup and more
600 Downloads - Third Global Ability
650 Downloads - Fourth Global Ability
700 Downloads - Two more pickups (Gravity and Explosive)
850 Downloads - Challenge multipliers that affect Gameplay and up your score! (Includes UI selection menu)
1000 Downloads - Four Player Support!
(Phase Three - Game Modes)
1100 Downloads - Meditation Mode! Unlock a zen garden where you can roll around without fear of falling
1200 Downloads - More Coming soon!
~~Help us share this game by clicking the buttons below! Every download gets us closer to a better game!

---
---
Credits!
Created by Timothi Ellim - Get to know me better @timothiellim on Twitter!
Gameplay Soundtrack from Amoeba Crew- Check them out on Youtube!
3D Models (the objects that drop) from Stoolfeather Games - Get their Low Poly Series on the Unity Asset Store!
Made in Unity 5.6 - Make your own game today!
---
---
Version Log!
Coming soon~
---
---
Copyright 2017 Timothi Ellim. This item is not authorized for posting on Steam or elsewhere on the internet unless by accounts owned by the developer.

TILTOFF is ITCH.IO exclusive, so if you see this game elsewhere on the internet, please do inform the developer!
| | |
| --- | --- |
| Published | 9 days ago |
| Status | In development |
| Platforms | Windows, macOS |
| Release date | 8 days ago |
| Rating | |
| Author | Timothi Ellim |
| Genre | Platformer |
| Tags | 3D, Arcade, Casual, Colorful, Co-op, Difficult, Endless, Fast-Paced, Gravity, Singleplayer |
| License | All rights reserved |
| Asset license | All rights reserved |
| Average session | A few minutes |
| Languages | English |
| Inputs | Keyboard, XBox 360 controllers |
| Accessibility | High-contrast |
| Multiplayer | Local multiplayer |
| Player count | 1 - 2 |
Download
Click download now to get access to the following files:
V1.00_TILTOFF_WIN.zip
92 MB
V1.00_TILTOFF_MAC.zip
95 MB