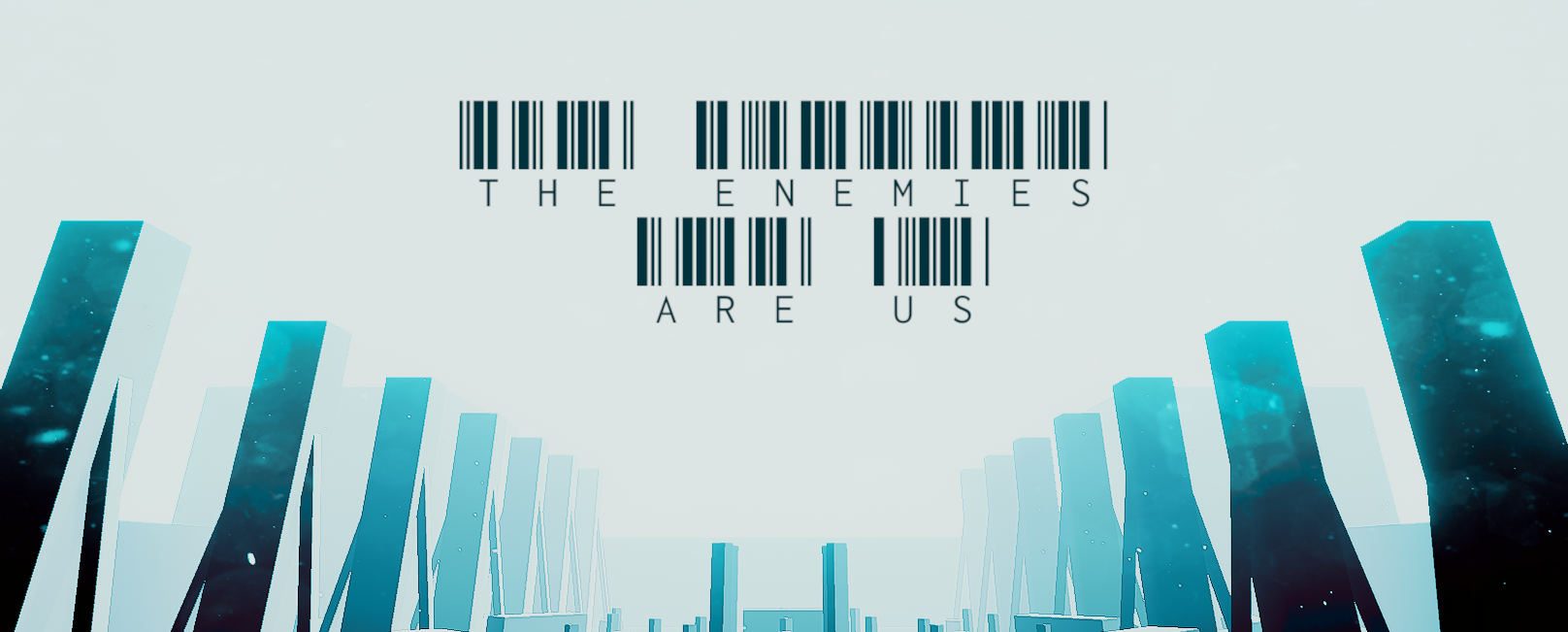 The Enemies Are Us
A downloadable game for Windows and macOS
Update 1.2 is now out! ~Comes with an additional casual mode with the previous mode being changed to hardcore!
Mac Version now available! ~Recommend playing on 2048x1280 resolution and below . You can set the resolution in the Unity configuration screen (hold option key if it doesn't show on startup). Higher resolutions might impact framerate and performance. ~ Recommend graphic quality setting is "Beautiful".
▓▓▓▓▓▓▓▓▓▓▓▓
UPCOMING UPDATES!
1. Player Health Update + Difficulty. I agree! The health is too low and the bots are too accurate. I'll implement a fix for the game that allows you to choose between "Normal" and "Hardcore". Here are the details:
Normal = High Health Pool to comfortably go up against AI players and read their bios. Also AI players are less accurate. Now you are the one true GOD Enemy
Hardcore = Current Low Health Pool that makes you mortal, intense AI that never misses...
2. Beefier Gun Shot!
**All updates above will be implemented after the xkcd game jam rating section is over**
▓▓▓▓▓▓▓▓▓▓▓▓
ABOUT
The Enemies Are Us is a third-person shooter that pits you against waves of red AI players and asks you to "KILL THEM". When you do try to kill them, you find that the AI players fight for their lives and put up a good fight. Yet, because you've been conditioned to kill by all the FPS and Shooters you've played, you shoot them and...they go down in one hit.
Text appears and displays a short bio of the AI player you just killed. Are these really just bot players? Another wave of AI Players comes to attack you, perhaps they are vengeful for you killing their comrades. How could AI bots feel such emotions?
Are you really just killing bots? Or are you performing something far more sinister?
The enemies are us, not them.
▓▓▓▓▓▓▓▓▓▓▓▓
GAMEPLAY
You are the sole player who stands against an army of AI Players dyed in red. Does the red mean they are enemies? Regardless, they attack you, and soon you fire back. You kill one, you kill two, how many more are there?
Control your character with your mouse and keyboard. Aim and fire your pistol, but watch out, you only have 68 bullets. Fortunately, one hit kills the other player but you have 15 hits worth of life (why? because you are the chosen of course. you are the all power 'judge, jury, executioner' of a player). There are 6 waves of enemies that will come at you, here are the details
Wave One - 4
Wave Two - 7
Wave Three - 9
Wave Four - 9
Wave Five - 8
Wave Six - 8
End?
▓▓▓▓▓▓▓▓▓▓▓▓
CONTROLS
[W] [A] [S] [D] - MOVE
[SHIFT] - SPRINT
[SPACE] - JUMP
[E] - CHANGE WEAPON
[LEFT MOUSE BUTTON] - AIM
[RIGHT MOUSE BUTTON] - SHOOT
▓▓▓▓▓▓▓▓▓▓▓▓
INSPIRATION
Made for the XKCD 2017 Game Jam - Check out the submission page here
Inspired by "FPS MOD" (Shown below)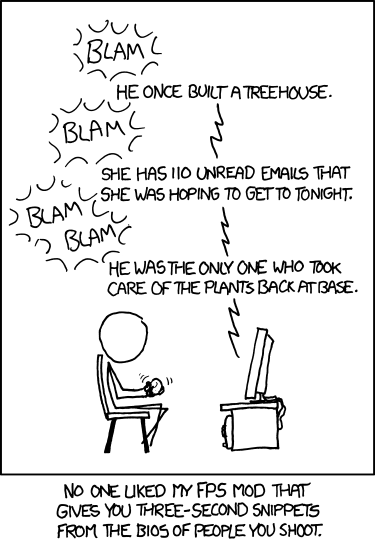 by XKCD

Purchase
In order to download this game you must purchase it at or above the minimum price of $4.99 USD. You will get access to the following files:
TheEnemiesAreUs_Game_v1_2_Windows.zip
68 MB
TheEnemiesAreUs_Game_v1_2_Mac.zip
71 MB
Comments
Log in with itch.io to leave a comment.
Looks like xkcd strikes again! Much love and best wishes to the dev :)
Is there a watch list or something?
p.s I'm new to itchio, or itch :)
Welcome to itch.io! (:
There is something like a watch-list on the top right of every game page - buttons that allow you to follow the creator or add the game to a "collection". The buttons will allow you to receive updates from the creator or game (:
guys to play this game 4k gtx 1080
If you ever do get the chance to try it out on a 4K monitor + gtx 1080, please do tell me how it goes!
Currently I'm on an 1080p $90 monitor from amazon and a gtx 1050. One day I hope to save up enough to get the latest rig (:
It also runs well on the "Beautiful" quality setting on my 5 year old HP laptop which uses a NVIDIA Quadro K2100M.
It's a good looking game and it gets it's point across but it isn't all that fun. Maybe it isn't meant to be but with all the visual distortion, high enemy rate of fire and seemingly pinpoint accuracy they have at extreme distances it makes for a more frustrating experience than a meaningful one. Most times I was dead before I could find who was shooting me and the time I did kill someone I was dead before I could finish reading the blurb.

@CoalFire Thank you so much! I agree wholeheartedly and the furthest I've survived is to the third level (and that was harder than any dark souls run through I've expereinced imo). Currently working on the fix for the difficulty and will upload an updated version once the xkcd jam is over. More details in the Updates sections above (: